The worse that can happen when you are on camping is having an uncomfortable mat or sleeping bed. If you want to enjoy during your outdoor trip, go for the most comfortable and convenient mat.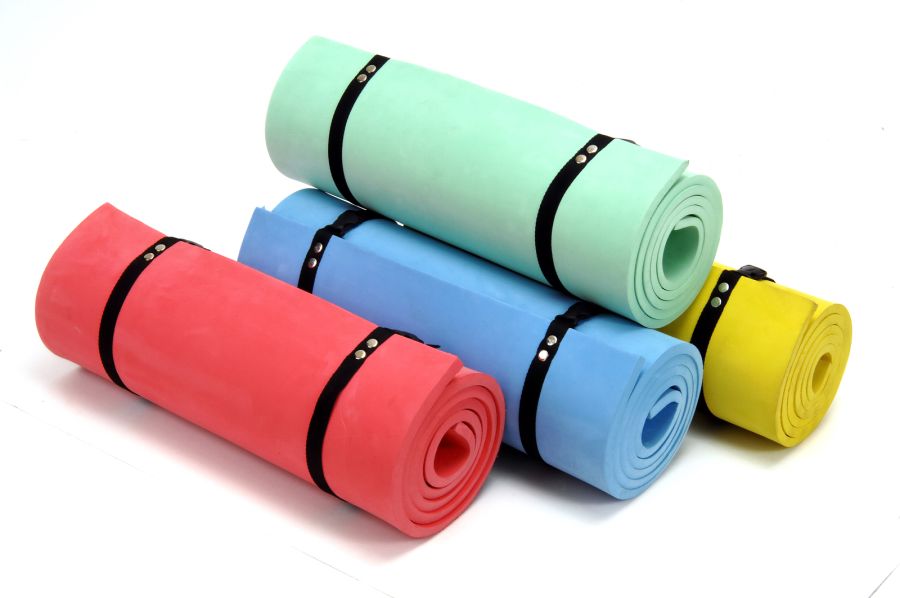 It's the choice of your camping mat that will determine duration of your stay. Typically a mat serves two purposes and those are for cushioning and insulation, and to protect you from ground insects.
Using a mat offers better insulation making your nights out comfortable and less of a risk. Unfortunately, campers overlook getting mats when planning for an outdoor trip. Most tend to pack home-made rugs that are less comfortable and do not provide any insulation. Until you feel the cold, you will then realize the significance using a mat.
Pad Thickness
The main purpose of a mat is for insulation. Before you choose a mat, know what pad will give you the comfort you need. There are thick-padded and thin-padded mats that could either be inflated or foam types.
Inflated mats are manually pumped with air. The thickness of an inflated mat ranges from 2.5-5 cm. Use the thicker mat if you want extra comfort. It is one of the best mats to carry along as it is light in weight and can easily fit into your bag. They equally provide the insulation that you require during night time.
Foam mats are designed differently and come in a unique style. These are filled with foam which provides excellent insulation to campers at night. They are not a problem to carry as they fit in the bag perfectly either twisted or folded. Your weight will also determine the kind of foam to select. If you are a plus size, thicker foam mats are the best.
The thicker foam mats are made with a double layer and thinner ones with a single layer. A thicker mat is most appropriate when you are camping during the cold season. It will keep you warm during cold nights. If you are camping during summer, a single layer mat is just perfect. Foam mats offered excellent warmth, do not absorb water and are extremely affordable.
Size
By size we mean length and width. The last thing you want to experience is back-ache or your shoulders paining. You do not also want ground insects to feast on you when you are asleep. That is why you need to check for length and width. Camping mats have pads to support your entire body. When selecting a camping mat, consider your body. Will your shoulders and your lower body including the hips fit into the pads? If you need insulation, go for one that is lengthy enough to fit your body.
Width is another thing to factor in. If you have a bigger tent, you could go for a one with a width is 25-30 inches. You will not feel like you are suffocated in a tent.
Where To Use
Determine where you intend to camp and the purpose. There are mats suitable for car or boat camping. Also, what is the backpack ability of the mat you consider getting? An inflatable mat is best for backpacking. It provides insulation and comfort.
If you are seeking comfort during your trip, its best to go for thicker mats. Such will provide you with excellent heat and protect you from strange insects. For a summer camp, go for light weight mats. Usually the environment is warm and a thin mat is just enough to carry. It will equally give you insulation. When you are car camping, thickness of you mat won't interfere with your comfort.
Winter Camping
During winter, temperatures tend to be lower and it's definitely cold. If you plan to go out during this season, consider a thicker foam mat. Specifically go for a double layer mat that will provide excellent insulation. You do not have to worry if you are heavy.
Hiking
If you are a lover of hiking activities, consider a lightweight mat. An inflated mat is appropriate especially when hiking to long –distance and more straining sites.
Now that you have a few tips, it's up to you to make the right decision. Depending on the time of the year you choose to camp, it's always good to plan ahead. For winter, thicker mats will give you the tourist comfort you need.
Most importantly, your mat should protect you from hazards at night. Imagine experiencing a feeling of sleeping on stones and you are camping? You will definitely cut short your trip and retire to your sweet bed.